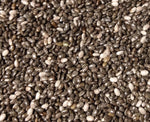 While I'm out in stores selling goodMix it quickly becomes apparent which ingredients in our goodMix products are the most well known, there's plenty of popular ones but chia seeds in particular are the one superfood that many people are familiar with, and for good reason.
Skeptics say they are just another fad, well it's easy to say that at the start but it looks like they are here to stay now, they have been consumed for centuries in central America and the nutritional benefits are quite impressive when you look closely.
- For an equal weight, chia contains around 5 times more calcium than milk.
- Prebiotic fiber , crucial for gut health, chia weight comprises of around 40% fiber.
- Protein, we all need this and chia consists of around 16% protein.
- Antioxidants, cancer fighting and immunity boosting, give me more.
- Omega 3s, much more per weight than salmon, if you live on the coast of Alaska then maybe its easier to eat wild salmon but for the rest of us if you want omega 3s chia is a good way to go.
I met a elderly guy at a store recently, I asked if he wanted a taste of goodMix, he said, I eat chia seeds, not many people know about them yet... I smiled and suppressed a laugh, the word is out for sure now.
At goodMix we buy certified organic chia seeds from Multiple Organics who pride themselves in sourcing the best certified organic fair-trade sustainable products from around the world.  So next time you order goodMix consider a 1lb bag of chia as well to use in other nutritious chia recipes.