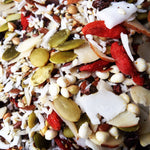 A milestone for goodMix, the first Vermont production in the Mad River Food Hub.
After a introduction to the great facility, perfect for the needs of goodMix to mix and bag seeds and nuts, 380 bags were produced on Friday, with a brief break to obtain a Vermont Food Processing License.
A steady start but as long as a quality item has been produced, at the end of the day thats our single focus!