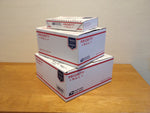 These 3 states take the honour of being our first ever online customers, a huge thank you to all of you. We at goodMix posses many talents, IT skills unfortunately are nowhere to be found among them, making goodMix available to the USA is a matter of great importance so we enlisted the help of Steve from Vickery Hill, his expertise got things flowing well, without it online orders would have been a long way off, possibly somewhere into 2019.
After the orders were dispatched it was back to Natural Provisions in Williston for more promotion of Blend 11, this is the best part by far, seeing the look on peoples faces as they pick up the bag and read the ingredient label, "wow this stuff is awesome I'll take one". We love to hear that, a credit to Jeanie McClymont and her years of dedication to producing one of the most nutritious - and edible meals on the planet.
Tomorrow it's back to the Mad River Food Hub to mix and bag another batch before the first lot sells out, we'll mix a heap to  ensure nobody misses out on their Blend 11, that would be terrible, it just can't happen, ever.