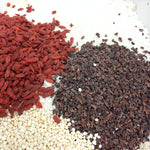 Early Thursday morning it was back to the food hub, this time to mix and bag a bigger batch of our Blend 11. Quayl, the maker of artisan chocolates in the Mad River Valley, took a day out from chocolate making to try her hand at making Blend 11, and we are very grateful for her help, over 500 bags of B11 rolled off the production line, all mixed and bagged by hand with great care. 
In this world of modern food, much of it so highly processed and chemically adulterated with preservatives and pesticides, there's something satisfying about producing from scratch a mix of natures finest organic ingredients into a perfect blend which will benefit the health of all those who consume it.
Now we are all stocked up with B11, the online store is finally functioning, we'll be busy every day doing instore demonstrations at stores in central Vermont, if you'd like to see goodMix in your local store please don't hesitate to contact us and we can work on getting to you. If you would like to order online we have free shipping on all weekend sales.
Have a great weekend from the team at goodMix!