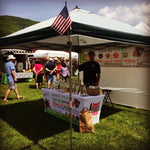 Thanks to all our customers so far this summer,
Now that the visa process is all over it's full steam ahead, you will have seen Jelena and I out and about at several markets and stores recently, goodMix is now on sale at the following markets, Waterbury Farmers Market every Thursday, Essex Junction Market every Friday, Waitsfield Farmers Market every Saturday, and most Saturdays we are also at Burlington Farmers Market.
Our retail list is also slowly but surely growing as well, you can find goodMix on the shelves at Healthy Living Market and Cafe and Natural Provisions in the Burlington area, Hunger Mountain Coop in Montpellier, The Store in Waitsfield, The Warren Store, and most recently at the Middlebury Coop as well, if you have a favourite local store and would like to purchase goodMix there please let us know and we may be able to provide for you.
Over the past few years we are thrilled to be able to say Blend 11 has eased the pain of many Australians who suffer from digestive problems, here in Vermont we are getting positive feedback and establishing a great relationship with many repeat customers who have tried and liked our mix of birdseeds. If you are interested in the history of goodMix in Australia check out our sister site www.goodmix.com.au  there's tons of natural health tips and interesting blog posts there.
If you weren't already aware don't forget to check out Localvore Today for the one off discount offer, pay $11 dollars at Localvore Today and receive a coupon worth $22 to redeem at our online store, numbers are limited so don't miss out, this is special offer to get our new name out there and try to raise brand awareness so share to any friends you think may be interested.
Now I know our site is looking a bit tired but stay tuned, theres a heap of great pics in store from Brian and Emily at Ember Photography which will be going up shortly to really liven things up a bit and get the site looking good.
Hope to see you all at a market or store soon.
Have a great weekend.
Andrew