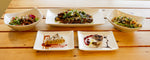 If you have visited the Mad River Valley over the last few weeks you will no doubt have been taken aback by the contrasting reds, yellows and other shades of the fall foliage, it's something to behold and it's very easy to understand why so many people make the trip here in order to spend a few days capturing some stunning images. There are cars slowing and stopped on the side of the road everywhere with the occupants having spied another great frame,  all in all it's good to see people out and about taking time to soak up natures kaleidoscope here in Vermont.
It's also a great time for the town of Waitsfield, the Farmers Market is hopping with happy shoppers enjoying the last days of the market and the cooler sunny days before the wind and rain brings the curtain down. This is when all but the hardiest start to look indoors for for their entertainment, certainly when it comes to enjoying a night out to dinner.
Fortunately for those looking to eat out there's no shortage of dining establishments to cater for every taste, there's something for everyone, from the cheap and cheerful right up to the select handful of 5 star options. While there's plenty of 4.5s to choose from the field really narrows when it comes to TripAdvisor 5 star ratings, of these my girlfriend Rania and I are lucky enough to have recently visited one in particular, MINT.
Being a regular carnivore I wouldn't have singled out a vegetarian restaurant as my first choice for dinner, MINT defies this logic and I would challenge any meat eater to check it out, you will leave impressed. Husband and wife owners from Europe, chef and hostess Iliyan and Savitri are impeccable in every respect, a visit to MINT is a true experience in fine dining and hospitality not to be missed when in "the valley". If you study the menu closely you may even find that Iliyan has managed to craft the humble Blend 11 into a 5 star morsel.