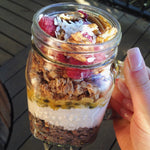 ACAI CHIA PUDDING PARFAIT
A parfait that has a delicious blend of gooey, crunchy & FRUITY goodness in a jar!
Ingredients
– 2 tsp blend11
– 2 tsp Chia Seeds
– 1/2C Almond Milk
– 1 tsp Acai Powder
– 1/3C Natural Greek Yoghurt
– 1/2C Granola
– Fruit of choice
Method
1) Night Before! In a small bowl, mix the blend11, Chia Seeds, Acai Powder & Almond Milk in a bowl.  Leave in fridge overnight to set.
2) Morning after! Grab small bowl out of fridge & stir up Chia Pudding mixture.
3) Spoon pudding mixture into the bottom of a jar. Then layer with Natural Greek Yoghurt, Passionfruit (fruit of choice), Granola & more fruit! Even add some nuts (pecans, walnuts) & coconut for extra flavour & crunch.
4) EAT!
Serves approx
Thanks to Tanisha Sorensen for this awesome Parfait recipe!!