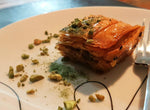 NEOKLAVA (Our Version Of Baklava)
It's Baklava, but not as you know it. I mean Baklava is juicy, sweet and nutty so I thought why not make it with goodMix Neo blend? Result, YummO Neoklava!!
Great for all occasions, it's raining..Baklava.. It's Monday..Baklava. Need I say more?
Ingredients
1 x 375g fillo Pastry (Ensure if frozen to let defrost in the fridge for a few hours)
300g of Activated 
Neo Blend
 (or alternatively 
Blend11
)
250g of Nutelex (or butter)
1 teaspoon ground cinnamon
1 cup of water
1 cup of organic Coconut sugar
1 teaspoon of vanilla extract
8 Tablespoons of Organic Honey
Method
1. Preheat oven to 180 degrees' Celsius fan forced. Butter the bottoms and sides of a 9×13 inch pan (Or pan size of your choice).
2. Finely Chop up the Neo Blend mix and add in the cinnamon. Set aside. Unroll filo pastry. Cut whole stack to fit pan. Cover filo with a dampened cloth to keep from drying out as you work.
3. Begin to melt butter in a saucepan, once melted place two sheets of the pastry in the buttered pan at a time, butter thoroughly with the melted butter using a Pastry Brush. Repeat until you have 8 sheets layered.
4. Sprinkle 2 – 3 tablespoons of Neo Blend on top, spreading evenly over the surface. Top with two sheets of dough, then butter, then Neo Blend again. Repeat this layering until you have three layers or until you run out of the Neo Blend.
5. Finally ensuring you have four layers of pastry on top, therefore 2 layer of fillo, butter and then 2 more layers with butter to finish. Using a sharp knife cut into diamond or square shapes all the way to the bottom of the pan.
6. Bake for about 50 minutes until baklava is golden and crisp.
25 Minutes Before the Baklava has finished begin to make the sauce:
A. Boil the Coconut sugar and water until sugar is melted. Then add the vanilla extract and organic honey. Simmer for about 20 minutes.
B. Remove baklava from oven and immediately spoon sauce over it. Let cool. Serve up and enjoy the delicious Turkish-goodMix Neoklava.
C. Garnish with crushed cashews and Pond Water, if you like…Enjoy!
Serves approx
… It's all mine make your own…
Thanks to Bodean Shea for this amazing recipe!!